| | |
| --- | --- |
| Where: | Warburton, Cheshire at the Saracen's Head and other pubs in the locality |
| When: | Early to mid November |
| Time: | 8pm onwards |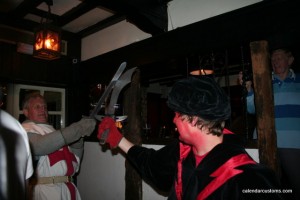 Souling or Soulcaking is a tradition in the North-West of England characterised by performances of traditional mumming plays which, in addition to the usual sword-fight and revival of a combatant, feature a wild hobby horse. The name is derived from the dating of the palys around All Souls Day, 2nd November. The group at Warburton are a revivalist side dating from the late 1970s and their home is the Saracen's Head in the village. Their season usually covers at least six nights (1st November and the following Friday and Saturday followed by the next Thursday, Friday and Saturday) with additional daytime performances on the final Saturday; peformances are at a number of pubs in the locality but usually the first and last are "at home".
Helpful Hints
Check link for full details and times before setting off as the programme can be subject to change at relatively short notice – it's quite a long list of pubs in a short time so planning the schedule is complicated and varies year-on-year . The pubs around Knutsford can be fairly crowded so be prepared for a squash!
Click here for the website : http://www.larchfieldhouse.co.uk/Souling/WarburtonSoulingPlay.htm
View larger map