| | |
| --- | --- |
| Where: | Countrywide |
| When: | 7th Sunday after Easter |
| Time: | All day |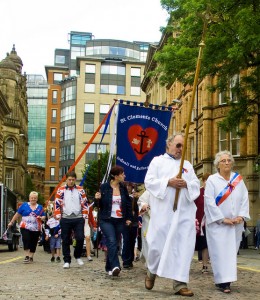 Whit Sunday is the seventh sunday after Easter, so varies in date depending on when Easter falls;  it's between mid-May and mid-June each year. The origins of the name are obscure but we know that the festival commemorates the descent of the Holy Spirit on the Disciples. In the past it was a popular time for events to be held such as fairs, morris dances, fetes, walks and parades, many of which have been moved to the more predictable date of Spring Bank Holiday which always falls at the end of May (like the Manchester Whit Walk, illustrated).
Helpful Hints
In 2018 Whit Sunday will be 20th May.
Photo by Spinneyhead.