| | |
| --- | --- |
| Where: | Whitby, North Yorkshire from Tate Hill Beach/Church Street (depending on the tide) to the Market Place & back to Church Street |
| When: | First Saturday in December |
| Time: | Parade at 3.30 |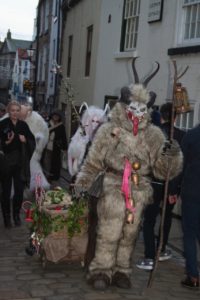 The Krampus is a fearsome horned creature who accompanies Saint Nicholas on his rounds, with the Saint giving presents to good children in parts of Europe on December 5th, the eve of his feast day; the Krampus punishes the naughty ones…While similar festivals have been popular for a long time in Europe and America, the new event at Whitby is the very first to celebrate this folkloric character in the UK, with the inaugural event held in 2015. It's a fundraiser for local charities and provides a colourful spectacle in the run-up to Christmas."Krampus Run" is a direct translation from the German, and it's a parade rather than a race, with the reading of proclamations, election of the most popular Krampus as the Winter Thing and a good time had by all. Good children may be given candy canes, which will ward off attention from any interested Krampus lurking nearby; bad children will need to be vigilant….some of the Krampusse (I am assured this is the plural of Krampus) carry off the naughty ones in their baskets and backpacks. As dusk falls on the town, the parade takes on a more sinister appearance and the Krampusse melt away into the dark….
Helpful Hints
So far the event has been scheduled for the first Saturday in December – as the event is so new it may well continue to evolve and change but is always likely to be near St Nicholas' Day (6th December) as that's when Krampus are legendarily active.
In 2017 it was on Saturday December 2nd, starting at Church Street this year (as high tide meant the beach couldn't be used). 2018 date is yet to be announced will probably be 1st .
Click here for the event Facebook page: https://www.facebook.com/WhitbyKrampusRun/