| | |
| --- | --- |
| Where: | Wigtown, Dumfries & Galloway starting at Wigtown County Buildings; Crowning in Town Gardens |
| When: | Saturday in late June or early July |
| Time: | 1pm Crowning & Prize Giving, 1.30 pm Rideout |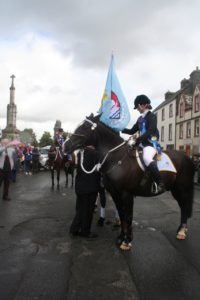 The Wigtown Riding of the Marches is a recently revived ancient custom, which took place in 2015 after a break of over 50 years.Common Ridings are boundary marking customs on horseback and at Wigtown the Principals are the Cornet and party, who lead the cavalcade of around 50 equestrians around the boundaries. Ridings are mainly held at locations across the Scottish Borders, perhaps because this area suffered from centuries of raiding and reiving between local families and the English, and the locals needed to protect their lands from encroachment. Expect bands, flags and lots of enthusiasm! The Riding is preceded by the crowning of the Festival Princess in the Town Gardens, and the fancy dress competition.
Helpful Hints
In 2017 it was held on Saturday July 22nd – 2018 date is yet to be announced.
The 2015 ride was a 6-mile route held in the evening; as the revival is so recent, it'll pay to keep double-checking for changes which may be necessary as it continues to develop – the change to a Saturday afternoon will presumably allow more participants to attend.
Click here for the event Facebook page: https://www.facebook.com/wigtownridingofthemarches
View larger map