| | |
| --- | --- |
| Where: | Leighton Buzzard, Beds from All Saints Church to the Almshouses on North Street |
| When: | Rogation Sunday (formerly Monday) |
| Time: | 10.15 am |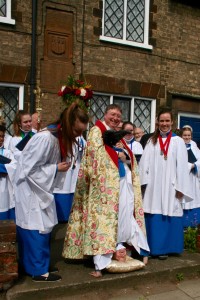 Wilkes Walk is an annual procession to the Almshouses on North Street in Leighton Buzzard; it takes place every Rogation Sunday  in memory of Edward Wilkes who founded the Almshouses in the seventeenth century. The procession includes a garland-bearer, clergy, Almshouse officials and the choir of All Saints Church; after a short service a reading is taken from Wilkes' will while one of the choir members stands on their head. Many rogationtide boundary marking customs involve youngsters being bumped, upended or  whipped at set boundary points to help them remember the location of the landmarks, and perhaps the head-stand derives from this. Money is given to the Almshouse residents and refreshments are provided back at the Market Cross near the Church.
Helpful Hints
Rogation Sunday is the Sunday of the week in which Ascension Day falls and because these are linked to Easter they vary in date from year to year. In earlier years the walk always took place on Rogation Monday but in 2015 it was on the Sunday instead and there are currently no plans to revert to the Monday as it's much easier to arrange at the weekend.
In 2018 it will be on Sunday May 6th (to be confirmed).
Click here for the church website: http://allsaintslb.org.uk
Many thanks to Jo Waller & Carolyn Gray of All Saints Church for some of the photos!
View larger map