| | |
| --- | --- |
| Where: | Winchelsea,East Sussex at the Upper Court Hall on the High Street |
| When: | Easter Monday |
| Time: | 11am |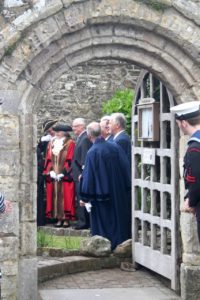 Winchelsea Corporation dates back  over 700 years ( their records began in 1295) and each Easter Monday their new Mayor takes office. The Mayor is elected annually from amongst the Freemen along with twelve Jurats of the Town and they are assisted by their Town Clerk, Chamberlain and Sergeant at Mace; new freemen are chosen by the existing Corporation. It's the only place in the UK where this still happens. Though many of their powers were lost during reforms in the nineteenth century, the Corporation still maintain membership of the ancient Cinque Ports Confederation and have responsibility for the maintenance of local ancient monuments and the museum. The installation proceedings are by invitation only as space is limited in the Court Hall, but visitors are welcome to watch as the dignitaries and newly elected Mayor leave the building on their way to their subsequent feast. Expect fancy Civic costumes and full regalia!
Helpful Hints
The refreshments after the ceremony are intended for the participants only so don't expect a free feed! The proceedings last for approximately three-quarters of an hour so expect the party to emerge by around 11.45. Visitors may watch the arrival of the party at 11, but if you want some photos of the newly elected Mayor you need to lurk around the garden area to watch the dignitaries emerge – they pose for photographs but fairly quickly make their way to the lower chamber to divest themselves of their regalia so the window of opportunity is brief.
In 2018 it will take place on Monday April 2nd.
For more info click here: http://www.winchelsea.com/Corporation.html
View larger map