| | |
| --- | --- |
| Where: | Winchester, Hampshire - city centre |
| When: | 1st weekend in July |
| Time: | 9 am onwards each day (see website link for full schedule) |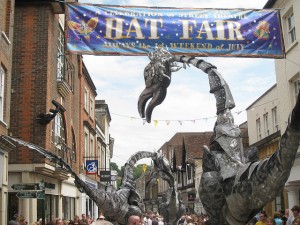 Winchester Hat Fair is Britain's longest established festival of street theatre and outdoor performing arts ; it's been running for nearly 40 years and takes is name from donations that fair visitors made, gathered in a hat. It's held on the first weekend of July in the city centre around the Buttercross, High Street and Cathedral area and begins with school-based performances on the Friday. Expect circus performers, plays, dancing and all manner of drama -all free of charge.
Helpful Hints
In 2017 it ran from Friday 30th June to Sunday 2nd of July – 2018 dates are yet to be announced.
Click here for the event website : http://www.hatfair.co.uk
From the organisers of the Fair: "Hat Fair is the UK's longest running festival of outdoor arts.The festival takes place every year during the first weekend of July across the historic city of Winchester.There's something for everyone to enjoy at each year's festival, and best of all, it's absolutely FREE!
With 234 performances planned for 2016 over 23 locations and 3 days, and with everything from space-walking astronauts to roof-top dancing and from mobile bath-tubs to peaceful sky-gazing, we hope you'll find something that's right up your street!Hat Fair 2016 (1 – 3 July)
Friday & Saturday– Two jam-packed dates of arts and culture at more than 20 locations all around Winchester city centre.
Sunday– All-day family picnic at Oram's Arbour, with some of the world's most spectacular street performers.
"The wonderful Winchester Hat Fair, a joyous weekend of street theatre and outdoor performance" The Guardian, 2015
For more information please visit www.hatfair.co.uk"
Photo by Martin Tod and 2016 images from Bryony at the Hat Fair – thank you!
View larger map