| | |
| --- | --- |
| Where: | Wirksworth, Derbyshire - well dressings at locations around town centre, Dedication at St Mary's Church & Crowning |
| When: | Saturday of Spring Bank Holiday weekend |
| Time: | 10.45 Dedication, 12 noon Crowning,well viewing any time |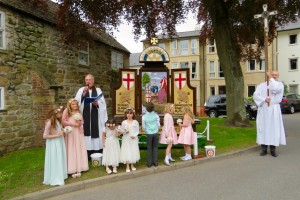 The people of Wirksworth in Derbyshire are keen to keep their local traditions alive and one of the high points of their calendar year is the Carnival weekend which includes a traditional well-dressing festival. Well dressing is a beautiful and  popular custom, particularly in Derbyshire and the Peak District, in which springs and wells are decorated with panels worked in flower petals and other natural materials to form a design. Religious scenes are common but not exclusively so. The custom seems to date back to the eighteenth century at least, though it has become much more widespread in modern times.Many villages take part and the season lasts from early May into August so there are plenty of opportunities to visit though the season for each village is short (usually a week or less) because of the nature of the materials used. At Wirksworth the Carnival takes place on  the Saturday of Spring Bank Holiday weekend in late May and as well as the Dedication service for the wells at St Mary's Church followed by a perambulation around all the wells, the Carnival Queen has her coronation in the churchyard, there are stalls, music, picnics, sports and many other activities aimed at all age groups. On the Bank Holiday Monday there is a big parade through the town from 1pm. The wells remain on view for a few days (usually until the  Wednesday) and the organisers are always keen to have help in the days leading up to the Carnival with workshops for making the well dressings. There are usually at least 10 wells dressed around the town which makes it one of the largest displays of its kind and well worth a visit.
Helpful Hints
It's held on the Bank Holiday weekend at the end of May. The first well to be blessed is inside the church so that's where the Blessings begin.
In 2018 it will be on Saturday 26th May with the Parade on Monday 28th and wells stay dressed until 29th.
Click here for the event website : http://www.wirksworthcarnival.org
and here for more info on well dressings at Wirksworth and other locations : http://www.welldressing.com
View larger map