| | |
| --- | --- |
| Where: | Southwick, Northants at the Shuckburgh Arms |
| When: | 2nd Sunday in October |
| Time: | 10.30 onwards until 3pm approx. |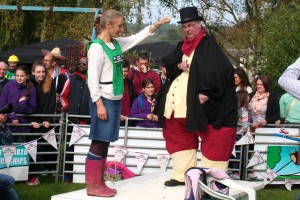 The original World Conker Championships were held on the village green at Ashton, but the current location has moved to Southwick, just up the road from Oundle. The competition has been running now for fifty years and is very well established, with several heats running simultaneously throughout the day. Contestants take turns of three attempts to strike their opponent's conker, until one of them smashes; the competitors have a total of nine strikes per match and are timed out after five minutes. The length of the thong is carefully measured and there are rules for snagging and other misdemeanours! If the conkers are both still intact at the end, then judges must decide a winner on technique and number of hits. Conkers are supplied ready strung by the organisers so there can be no accusations of tampering! Expect competitors from all over the world.
Helpful Hints
In 2018 it will be held on Sunday October 14th at the Shuckburgh Arms, Southwick.
This is a very well run event indeed! Other entertainments and stalls are on site through the day and there are plenty of attractions to suit all ages; food and drink are available at reasonable prices.Spectators entry fee is £4 for adults; parking is free, well signposted and very well manned. If you want to compete, registration must be complete before 10am – adults can enter in advance through the website (see link below) while children can enter on the day.
Click here for the event website : http://www.worldconkerchampionships.com/
and here for the Facebook page: https://www.facebook.com/theworldconkerchampionships/
View larger map