| | |
| --- | --- |
| Where: | Witney, Oxfordshire at Langel Common |
| When: | Sunday in June |
| Time: | 11am |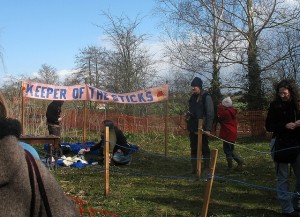 As all Winnie the Pooh fans will know, Pooh Sticks is the game of dropping  twigs into a stream from the bridge above and seeing whose stick emerges first from the other side. Simple, but competition can be fierce! There are team well as individual events and prizes are, of course, cuddly Winnie the Poohs. For over 30 years the competition was held at Days Lock at Little Wittenham but as the popularity of the event increased, so did problems with parking and road safety so a new venue was chosen. As there is no river traffic at the new venue on the River Windrush it also means that the former restrictions on when the event could be held were lifted and it can now take place later in the season, hopefully with a bit of summer sunshine. The event raises money for local and international charities and is organised by the local Rotarians.
Helpful Hints
For many years the competition was held at Little Wittenham but from 2015 it has moved to a new location and has shifted date from late March to June.
In 2017 the event was on Sunday June 4th at Langel Common near Witney – 2018 date is yet to be announced.
Click here for the event website : http://www.pooh-sticks.com/
Photo by Gershamabob.
View larger map