| | |
| --- | --- |
| Where: | Congham, Norfolk at the Cricket Field on Lynn Road |
| When: | 3rd Saturday in July |
| Time: | From 2pm with final at 4.45 |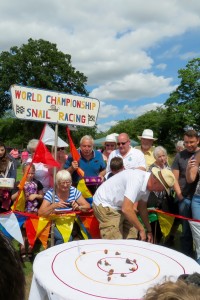 Snails are prevalent in the marshy land of Norfolk, making it a natural setting for a mollusc racing event. The competition has been running (or more accurately slowly sliding) more than quarter of a century and is held on a specially marked moist tablecloth; the course is only thirteen inches but still takes a few minutes as the competitors move literally at a snails pace. The competitors are lined up inside a circle, facing outwards towards the finishing line and the first to inch over the outer circle wins its heat.Expect a couple of hundred entrants with heats of fifteen-at-a-time throughout the afternoon, ending with a grand final at 4.45  for the winners of each heat- the Champ receives  tankard stuffed with lettuce. As well as the Championship there are all the traditional accompaniments to a typical village fete like cake stalls, tombola and morris dancing.
Helpful Hints
It's part of the village fete raising money for the local church. Entry fees are nominal (20p per head) and snails are provided on the day for those who wish to hire them – some competitors raise their own to bring on the day.
Parking is available free on site – just follow Lynn Road until you see Stewards who will direct you in.
In 2018 it will take place on Saturday 21st July.
Click here for the event website : http://www.scase.co.uk/snailracing/
View larger map