| | |
| --- | --- |
| Where: | The Bottle Inn, Marshwood, near Crewkerne, Dorset |
| When: | Formerly a weekend in June but 2017 in July -See "helpful hints" below. |
| Time: | Pub open Noon onwards 5.30 pm for Nettle Eating 2017 |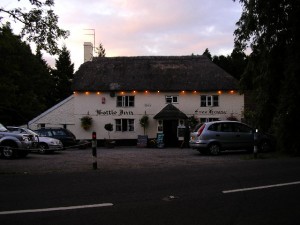 The hour-long contest at The Bottle Inn used to take place every June on the Saturday preceding the Summer Solstice, though the date varied a little; in 2017 its happening in  July. Competitors chew their way through nettle leaves  and most give up or face disqualification (vomiting is forbidden) before the end. It's one of those modern tradtions started off in a pub, dating back to the 1980s and the organisers provide the raw materials of 2-foot lengths of nettle stalk from which all leaves must be consumed. The winner is the contestant who has stripped and eaten the leaves from the greatest number of stalks – simple but not easy given that the leaves sting and cause tongues to swell and blacken. There's live music and a festival atmosphere. Please note that as of 2017 the pub and competition are being run by new management so things may be slightly different to the above description!
Helpful Hints
2017 UPDATE!!!! The Bottle has re-opened and the competition will be held 29th July from 5.30 followed by live music from The Wolf Pack. Many thanks to Gerry for the info. Music and food are available all day from noon.
Double-check with the event website as it depends on a good supply of nettles!
Click here for the Bottle's new Facebook page: https://www.facebook.com/The-Bottle-Inn-1793832280862788/
Or ring the pub on 01297 6784103
Please note that calendarcustoms.com has no connection with the organisation of this event. As with all of the events featured on our site, we recommend checking details with the event organisers prior to making any travel plans.
Photo by RNE.
View larger map