| | |
| --- | --- |
| Where: | Willaston, Cheshire at the Willaston County Primary School |
| When: | Late Saturday in June |
| Time: | 1pm |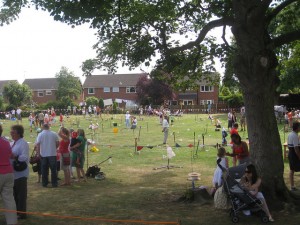 The World Worm Charming Championship is held on a Saturday late each June at Willaston County Primary School in Cheshire and dates back to 1980. Where else would you get a group of people of all ages competing to extract the maximum number of worms out of a patch of soil? Three metre square plots are available from which to entice the creatures within the space of half an hour – the record is over 500 worms. Various techniques are used including vibrating the ground by sticking implements into it, playing or making music and  patting the soil; it's against the rules to import worms in from outside and digging is not allowed. Prizes are awarded for the single heaviest specimen ( a silver worm trophy) as well as for the largest quantity (gold worm trophy) – all participating worms are released back into the wild afterwards.
Helpful Hints
Plots may be booked in advance – they cost £5 each (see website for details).
In 2017 it was on Saturday 24th June – 2018 date is yet to be confirmed.
Clcik here for the event website : http://www.wormcharming.com/index.html
and here for the School : http://www.willastonprimaryacademy.co.uk
Photo by Lois Lindemann.
View larger map