| | |
| --- | --- |
| Where: | Formerly at Worthing, Sussex - from the Pier |
| When: | Formerly a Weekend in July or August |
| Time: | Formerly From 11.30 Saturday, 12 noon Sunday |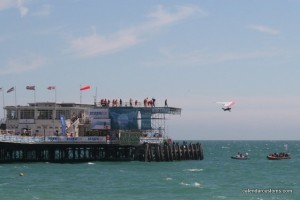 The annual Birdman competition was when humans strove to become airborne using only manpower to propel them off the pier….usually with predictable results! There were three classes in the competition : Leonardo da Vinci class in which competitors used their own homemade self-designed craft; Condor class in which competitors used hang-gliders or similar craft; Kingfisher class in which fun flyers, often in fancy dress and/or raising money for charity, launched themselves with little hope of anything other than a speedy plummet southwards into the briny. The potential rewards were substantial – as well as prize money for each class, there is the elusive £10,000 reward for anyone who could fly over 100 metres. The action took place over two days so you could expect plenty of thrills, spills and chills with 30,000 visitors. The competition began in the early 1970s and has moved venue a few times, settling in Worthing from 2008 after 29 years along the coast at Bognor. From 2016 the competition has been cancelled.
Helpful Hints
Anyone can go to spectate, but competitors must be over 18 and the entry fee is £50. And remember that the platform is 30 feet high above the sea!
There is a big screen so spectators can see close-ups from the platform and the commentary is easily audible all along the beach to the west of the pier. It's fairly easy to get a good view as many of those watching sit on the pebbles or on deckchairs at the front of the beach.
Be aware that for safety reasons some of the timings may be altered or even cancelled in response to weather conditions.
The competition usually took place in August but moved a month earlier in 2014 for one year only. From 2016 it no longer takes place.
Click here for the event website : http://www.worthingbirdman.co.uk/
View larger map