| | |
| --- | --- |
| Where: | York, Yorkshire starting at the Guildhall/Mansion House, St Helen's Square |
| When: | Saturday in early to mid August (usually the 2nd Saturday in the month) |
| Time: | 1.45pm onwards |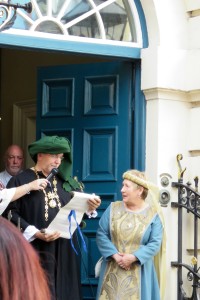 In York an ancient custom has been turned into a charity fundraising treasure hunt in which members of the public are encouraged to participate. The Sheriff summons the Sergeants and they assemble for speeches on the steps of the Mansion House arrayed in medieval finery and regalia, then the party divides into two groups who follow  processional routes around many of the city's hostelries for the afternoon sampling the ale to test its palatability. At each location the landlord is given a certificate after the ale has been pronounced to be good (we didn't attend any who failed the test so don't know what would happen in such a case….!).The  original Assize of Bread and Ale was a thirteenth century statute setting out quality control for those staples of the English diet, in an early form of consumer protection to ensure that customers were given good quality comestibles in fair measures. It was the first law of this type in England and miscreants who sold poor quality wares or gave short measures could be punished. Today there's a treasure hunt sweepstake competition with maps at the participating pubs and prizes for the winners and the emphasis is on fun rather than law enforcement!
Helpful Hints
It's held the second weekend in August each year, and starts in the afternoon at around 1.45 with the proclamation on the steps of the Mansion House (the Guildhall is situated behind the Mansion House, through a large archway). Leaflets are available on the day with the full list of venues and approximate timings. When we visited in 2015 we were led astray by more than one website which stated that it began at 10 am but in fact this is the time that the Guildhall opens to the public, not when the Assize begins.
In 2018 it will be on Saturday 11th August (to be confirmed).
Click here for details: http://www.jorvikmedievalfestival.com/event/assize-of-ale-day/
Click here for the Scriveners Facebook page: https://www.facebook.com/Guild-of-Scriveners-of-the-City-of-York-222218501129416/
Click here for the Sheriff's HQ at the Mansion House : http://www.mansionhouseyork.com
View larger map