| | |
| --- | --- |
| Where: | York starting at Walmgate Bar and across Yorkshire at various locations. |
| When: | 1 August |
| Time: | All day - York Declarations from 10.45 |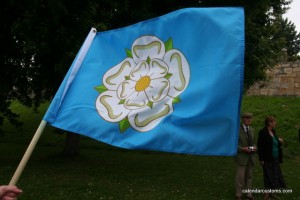 Yorkshire Day has been celebrated for over 35 years and was created in response to the alterations in county boundaries in the 1970s. The Yorkshire Ridings Society organises a gathering of civic worthies at a different Yorkshire location each year and also the  Declaration of the Integrity of Yorkshire is read at each of the four Bars of York (the city gates, not the pubs!!). The declaration is read in each of the languages that have been significant in Yorks history : Latin, Old Norse and English and of course in Yorkshire dialect. August 1st was chosen as Yorkshire Day because it's also the anniversary of the 1759 Battle of Minden, when soldiers picked white roses (the symbol of Yorkshire) as a tribute to their fallen comrades. Expect lots of flags with white roses, and lots of Yorkshire pudding consumption.
Helpful Hints
Yorkshire is England's largest county and numerous events are organised across its broad acres as well as in the capital of York.
In York itself after starting off at Walmgate Bar at 10.30, the declaration readings follow at Micklegate at 11.40 (because in 2017 York is 1142 years old !) then Bootham Bar at 12.15 and Monk Bar at 12.50, followed by Parliament Square at 1pm.  The party also walk the  city walls between the Bars with flags – if you're lucky you might get to carry one. It's a very welcoming event even if you're not a native of Yorkshire!
We ate takeaway Yorkshire pudding with roast beef – tasty but very difficult to eat with plastic knives and forks (should have gone to a pub instead – we were covered in gravy!).
For the society website, click here : http://www.yorkshireridings.org/
View larger map