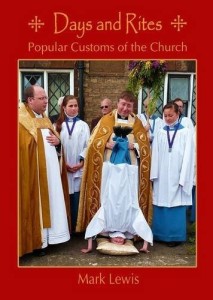 Days and Rites – Popular Customs of the Church is a new book from Heart of Albion press which discusses many church-related customs and traditions held throughout the country. We're excited to report that calandercustoms.com gets a credit in the acknowledgements, and some of our photographs have been used in the book too. Thanks Mark!
The book is available at amazon (click here for a direct link).
People go to church to worship and, as is often quipped, to be 'hatched, matched and dispatched'. Yet these quintessential rites have been adapted in all sorts of ways by parishioners and clergy up and down the country, while a great number of 'blessings' and other services that are quite specific to individual churches are performed annually. Collectively, they create a rich variety of traditions, many of which are only known about locally.
Some of these liturgical traditions have survived unbroken over many centuries, others have been revived after a break during the twentieth century – while yet more continue to be invented. Some of these more recent traditions – such as Harvest Festivals and Christingle – are now so ubiquitous that many churchgoers are unaware of a time when they were not part of the yearly cycle of customs.
By drawing together, for the first time, detailed information about these popular customs of the church, Mark Lewis hopes to stimulate further interest, research and recording of these remarkable events.
See our other recommendations in the calendar customs bookshop.