| | |
| --- | --- |
| Where: | Ancrum starting on the Green in the centre |
| When: | Saturday after Shrove Tuesday /after Jedburgh Ba |
| Time: | 11 am (boys), 1pm (Men) |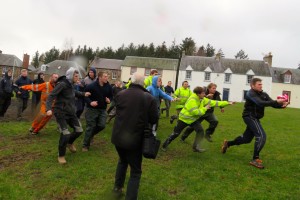 The Ancrum Handba'  is one of the traditional Shrovetide "Uppies & Downies" festival games in the Scottish Borders region, with two teams divided according to birthplace. The game was  revived in the 1970s after a gap of over 20 years but its origins are centuries old. It takes place on the Saturday following  Jethart Ba (see separate article), the boys games starting at 11am with balls for under 12's and 12 to 16 year olds and the mens games around 1pm ; the ribbon-covered balls are thrown from the Market Cross on the triangular village green. The goals are at the east and west ends of The Knowe, one of the main roads through the village, and are a piece of stone wall and the wall of the Manse. Games can last until around 7pm and cash prizes are given to those who hail the ball.
Helpful Hints
This is a small village-scale game so don't expect huge crowds – but do expect a friendly welcome. The terrain varies from pavements around the Knowe to fields and woodland nearby so dress appropriately and wrap well up. A pub and a village shop are both just yards away from play. The dating of the game is linked to the similar event in Jedburgh and can vary from early February to March.
In 2018 it will take place on Saturday 24th February.
Click here for more info including an up-to-date schedule for all the Border games:http://www.playedinbritain.co.uk
View larger map