| | |
| --- | --- |
| Where: | Antrobus, Cheshire at the Antrobus Arms and at pubs in surrounding villages |
| When: | Early to mid November |
| Time: | Late evening (approx 8.30 onwards) |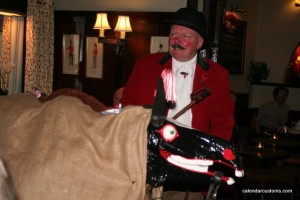 Antrobus Soulcakers are a tradtional mumming group who perform in November each year around the pubs in Antrobus and the surrounding district. Soulcaking or souling takes place in early November from All Souls Eve (1st November) and this group's season includes 1st November and the following two weekends, with usually 3 performances at different pubs each night starting around 8.30 onwards. Detailed programmes can be found on the Master Mummers website (see link below). The group perform a traditional hero/combat play, involving a sword fight with the Black Prince who has to be revived by the Doctor, and an appearance by Dick the Wild Horse of Antrobus who causes mayhem wherever he goes (he's a star who deserves his own fan-club!). The Antrobus gang have perhaps the longest pedigree  all the surviving soul caking groups today.
Helpful Hints
Check their programme schedule on Master Mummers for any changes before turning up and bear in mid that the timings are approximate! The full details are confirmed fairly close to the performance dates (usually late October).
Be prepared for a bit of a squash as the performance space can be tight.
Click here for the Antrobus Arms, the Soulcakers home pub: http://www.antrobusarms.co.uk 
Click here for  programme on the Master Mummers website : http://www.mastermummers.org/groupslist.php?oID=11&search=&submit=Search&ctrl=new&csName=&otCode=G&format=summary&step=20&p=1
View larger map