| | |
| --- | --- |
| Where: | Formerly The Village Green, Bardon Mill, Northumberland |
| When: | Formerly 3rd Saturday in October (or sometimes 2nd Saturday) See Helpful Hints on event page |
| Time: | Formerly 1pm |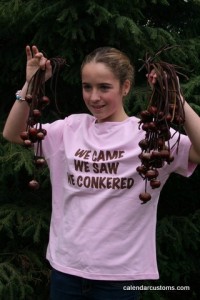 This was an annual conker competition for all ages with several heats ongoing on little platforms on the green to contest the titles for Junior, Centurion and Ancient Briton . Participation was encouraged but not mandatory and ready-strung conkers were provided! The prize was a specially engraved mug. Competition was particularly fierce between the adult males with a few rapped knuckles along the way! The 2010 championship went ahead despite a shortage of the raw materials locally – after an appeal, conkers were sent from all over the country and there were more than enough for the competition to go ahead. Currently the event has lapsed – lets hope for a revival.
Helpful Hints
Read up on your conkering techniques beforehand (maybe there should be a masterclass to polish up competitors' forgotten skills!). Food & drink were available on site, plus a few stalls on the green.
In 2014 it was on Saturday October 18th at 1pm (slightly later starting time this year as it used to be noon) but the event hasn't happened since then. I conclude that, for now at least,the event has lapsed.
Click here to find out more : http://www.facebook.com/ConkerChampions
View larger map