| | |
| --- | --- |
| Where: | Barrowden, Rutland at St Peters Church on Church Lane |
| When: | Last weekend in June |
| Time: | Sunday Service 11am |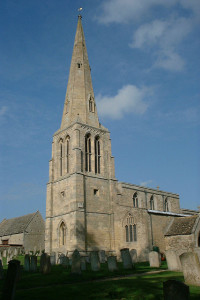 The rush-strewing ceremony at Barrowden is closely related to the rush-bearing ceremonies and celebrations of North-West England, and is an example of a survival of the festivities surrounding the renewal of floor rushes in church. In the days before stone-flagged floors, rushes were a useful way of keeping the surface relatively clean and a few places still carry out the old tradition of replacing them annually. At Barrowden, the floor is covered just before the weekend of the Patronal Feast of St Peter which is the last weekend in June. Because rushes are less plentiful these days, hay is often used, and it's kept down for around three weeks nowadays (it used to be for six weeks), or as long as the local hay-fever sufferers can put up with it!
Helpful Hints
In 2018  St Peters Feast weekend is 23rd/24th June and the floor will be covered just before this (to be confirmed). The Sunday Service is at 11am – check with church contacts for access arrangements before travelling to visit at other times.
For the village website click here: http://www.barrowdenvillage.co.uk/
For church contacts click here: http://www.achurchnearyou.com/barrowden-wakerley-st-peter/
Photo by Keltek Trust.
View larger map