| | |
| --- | --- |
| Where: | Biggar - Parade from Corn Exchange on High Street, Crowning at dais by Municipal Hall |
| When: | Saturday in mid- June |
| Time: | All day - Procession 10.15 approx, Crowning 10.30 -ish |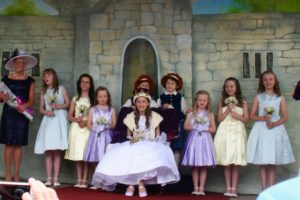 On this day,the Fleming Queen is crowned amid much ceremony and gorgeous costumes at Biggar – she's named after Mary Fleming who was an attendant of Mary Queen of Scots and whose family lived nearby. The coronation ceremony immediately follows the procession of floats which leaves from the Municipal Hall to perambulate the town, and the Prize Giving takes place at the Corn Exchange at 11.30. Then there's a big party all afternoon at the show field! The week leading up to Gala Day is known as Gala Week and a Ride-out also takes place on the first  Sunday of Gala Week from the Municipal Hall at 1pm, following the local boundaries with pipe bands, horses & riders and plenty to see.
Helpful Hints
While many of the border Galas and Rideouts have dates which are rigidly fixed to a formula from one year to the next, the Biggar Gala moves date a little from year to year, though it's usually in the middle of the month. In 2017 it took place on Saturday 17th June with the Riding on Sunday 11th – 2018 dates are yet to be announced.
Printed programmes are produced to raise funds for the event, but when we arrived on Gala Day they'd all sold out!
Clickhere for more info : http://clyde-valley.com/biggar/traditions.htm
and here : http://www.biggarwebcam.co.uk/
and here for the Facebook page with details of timings etc : https://www.facebook.com/pages/Biggar-Gala-Week/271693219649735
View larger map