| | |
| --- | --- |
| Where: | Bodmin, Cornwall starting at the Shire House council offices on Mount Folly |
| When: | 6th January (Twelfth Night) |
| Time: | From 12 noon |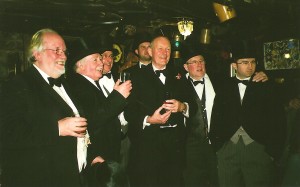 Bodmin in Cornwall has an ancient tradition of wassailing with written records going back to 1624, when local man and town clerk Nicholas Spry provided a wassail cup and the drink to fill it. Originally the wassailers visited the house of the Mayor and today they begin the day at the council offices in the spirit of  the tradition, as well as touring the local hostelries, residential homes and businesses in a twelve hour marathon of song, drink and fundraising. The wassailers are continuing the  ancient tradition of  the house-visiting custom rather than orchard related events which survive or have been revived elsewhere in the country, and they have two unique songs for their event. Expect a group of smartly dressed gents attired in top hats.
Helpful Hints
When 6th January falls on a Sunday the Wassailers tour town on Saturday 5th instead.They only decide on the exact itinerary at the last moment, but if you're in Fore Street during the afternoon you should be able to find them – they call at most of the town pubs during the course of the day (see link below for full details). They're out for 12 hours so there's plenty of time to catch up with them!
Click here for the event Facebook page: https://www.facebook.com/BodminWassail/
Click here for the Town Council's website : http://www.bodmin.gov.uk/
Many thanks to Jocelyn Murgatroyd for the photographs.
View larger map