| | |
| --- | --- |
| Where: | Bonsall, Derbyshire at the Barley Mow pub on The Dale |
| When: | 1st Saturday in August |
| Time: | 1.30 pm |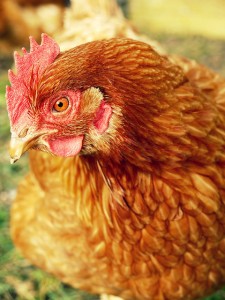 The Barley Mow pub carpark is the setting for Bonsall's annual competition; hens must race over a thirty-foot course in heats which culminate in a grand final. Fastest to date is a time of just three seconds but can frequently take much longer! Prizes are bags of grain. Expect lots of bemused chickens and clucking.
Helpful Hints
If you wish to compete but have no fowl of your own, you my be able to loan one on request.
In 2017 it will be on Saturday 5th August.
Click here fore event website : http://www.barleymowbonsall.co.uk/default.aspx?tabid=1267 
and more at : http://www.world-championship-hen-racing.com
Photo by Sally Crossthwaite.
View larger map