| | |
| --- | --- |
| Where: | Bonsall, Derbyshire at the Barley Mow pub on The Dale |
| When: | 1st Saturday in August |
| Time: | 12 noon pub opens, racing from 1.30 or so |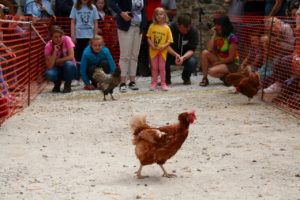 The Barley Mow pub carpark is the setting for Bonsall's annual competition; hens must race over a thirty-foot course in heats which culminate in a grand final. Fastest to date is a time of just three seconds but can frequently take much longer – competing hens can frequently be seen heading back towards the start! Competitors take their racing hens to the start and may be aided and abetted by helpers at the opposite end of the course giving encouragement and perhaps shaking containers of meal worms or corn. Prizes are bags of grain, a trophy for the winning team and of course huge kudos. Expect lots of bemused chickens and clucking.
Helpful Hints
If you wish to compete but have no fowl of your own, you may be able to hire one on request (the 2017 fee was a £5 donation to charity). Food & drink are available at the event – the 2017 burgers were incredibly tasty and I have it on good authority that the beer was also very good.
The roads in Bonsall are fairly narrow and the pub carpark is full of hen racing so arrive in plenty of time – there is a carpark at the other end of the village near the playing field, just a few minutes' walk away.
In 2018 it will be on Saturday 4th August.
Best view of the course is probably near the finish line at the sides (if you're behind the helpers waving corn you also get a good view depending on if you can see between them!).
Click here for the event website : http://www.barleymowbonsall.co.uk
and more at : http://www.world-championship-hen-racing.com
View larger map