| | |
| --- | --- |
| Where: | Bourton on the Water, Gloucestershire - in the River Windrush, town centre |
| When: | August Bank Holiday Monday |
| Time: | Afternoon, usually 4pm (fete etc from 11am) |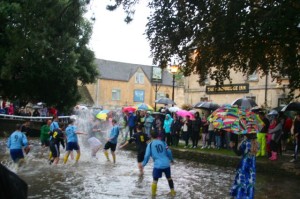 Each August Bank Holiday Monday afternoon, a unique football game takes place in the River Windrush at Bourton on the Water.  Play is between teams from local side Bourton Rovers and it's not just the players who get wet! The game takes about half-an-hour and has been played annually for over a century, though match times have varied a little between 2pm and 4 pm over the years. There is plenty more entertainment throughout the day starting with the opening of the fete, and Bourton is full of things to see, shops and eateries.
Helpful Hints
Parking is limited so arrive in plenty of time. Don't be afraid to get splashed and watch out for balls going into the crowd! When we went in 2014 we found an umbrella was as useful as a shield from splashing as it was keeping the falling rain off!
In 2018 it will be on Monday August 27th.
Check the time of the event here : http://www.soglos.com/
View larger map