| | |
| --- | --- |
| Where: | Bradwell on Sea, Essex starting at St Thomas' Church |
| When: | 1st Saturday in July (or 2nd Saturday) |
| Time: | 11 am |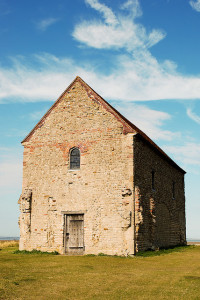 The Bradwell Pilgrimage is a walk  of approximately 2 miles from St Thomas' Church in the centre of Bradwell village to the historic Chapel of  St Peters on the Wall. Once there the pilgrims eat a picnic lunch before an afternon of workshops, worship, speeches and community singing which ends around 3.30pm. The pilgrimages began durng the late twentieth century, partly to commemorate the arrival of St Cedd who established a monastery here way back in 653 AD ; after many years being used as a barn, the chapel was restored for religious use in the 1920s. Nowadays there is a whole Festival based around the Pilgrimage weekend with Christian speakers, activities and music.
Helpful Hints
Parking & refreshments are available in the village – aim to arrive by 10.30. The excellent website below has all you need to know!
In 2017 it was on Saturday 1st July – 2018 date is yet to be confirmed. Check the website for details.
Click here for the event website: http://www.bradwellfestival.com
Photo by Jason Henry.
View larger map