| | |
| --- | --- |
| Where: | Braughing, Hertfordshire from outside the Fleece Inn to St Mary the Virgin's church |
| When: | 2nd October |
| Time: | Daytime (variable from year-to-year) |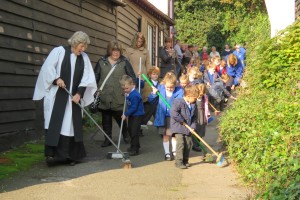 Matthew Wall was sixteenth century resident of Braughing, who had a lucky escape from being buried alive. He was actually in his coffin on the way to his funeral when the bearers slipped on wet leaves and the coffin was dropped, jolting Matthew and bringing him back to consciousness. When he eventually really died over twenty years later, Matthew left a bequest in his will to commemorate the anniversary of the non-burial, which was October 2nd. On this day each year the custom begins outside the Golden Fleece, where the vicar tells the story of the dramatic event and the current resident of Matthew Wall's cottage pays his annual fee of £1. The church bells are rung, the lane  to church  (Fleece Lane) is swept by local children and the vicar with brooms and Matthew's grave is tended while prayers are said. Singing by the children follows, and sweets are distributed for later. The local name for the custom is Old Man's Day, as Matthew lived to a ripe old age.
Helpful Hints
It takes place on 2nd October regardless of which day of the week it falls upon, and the local Jenyns First School is always involved. It sometimes takes place at 10 am but can be moved to fit in with school or church appointments, and may be  held later in the day especially when 2nd is a Sunday so that it doesn't coincide with the church services – in most recent years it has been held at 2.30. Best to double check before setting out (it's in the Diary Dates section on the school website)! All are welcome and there are plenty of opportunities to get some great photos.
In 2015 it was at 9.30am  ( on a Friday) and in 2016 it fell on a Sunday and was at 2.30 – in 2017 it will be a Monday. Time is yet to be confirmed but it's likely to be in the morning as it will be a schoolday.
Look out for Matthew Wall's simple gravestone in the churchyard, towards the East end.
Click here for the village website (with link for church contacts) : http://www.braughing.org.uk/
and here for the school website : http://www.jenyns.herts.sch.uk/
View larger map