| | |
| --- | --- |
| Where: | Bristol, Somerset at from St Barnabas' Church on Daventry Road at Knowle to St Mary Redcliffe Church |
| When: | Saturday in late October |
| Time: | 9.30am |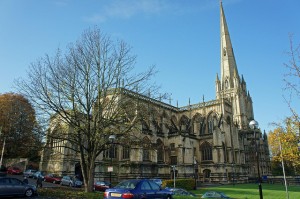 With a history stretching back over 8oo years, this is one of the longest established customs in the calendar. Back in the twelfth century Robert de Berkeley donated a water supply and conduit to the church and during the annual walk this is inspected for faults and to make sure it is still flowing in a ceremony very like beating the bounds (see separate articles). The walk is about 2 miles long and begins outside St Barnabas' Church at Knowle, taking a route through allotments and gardens and past a water-maze to the church at St Mary Redcliffe for refreshments.
Helpful Hints
First-timers on the walk are bumped on a stone partway through the walk – you have been warned!! Coffee is served from  before the walk begins – the walk finishes around 12.30.
Look out for Sir Robert's tomb in the North Transept at St Mary Redcliffe.
In 2017 it took place on Saturday October 21st- 2018 date is yet to be announced.
Click here for the church website: http://www.stmaryredcliffe.co.uk
and Facebook page: https://www.facebook.com/stmaryredcliffe/
and here for a first hand account : http://traditionalcustomsandceremonies.wordpress.com/2013/10/31/custom-survived-redcliffe-pipe-walk/
Photo by brokentaco.
View larger map