| | |
| --- | --- |
| Where: | Brougham, Cumbria at the Countess Pillar on A66 |
| When: | 2nd April |
| Time: | 12 noon |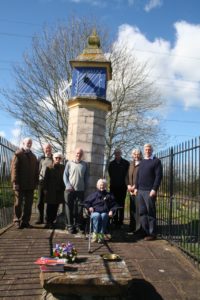 The Countess Pillar is a curious structure next to the busy A66 in Cumbria, and it was built in 1656 by Lady Anne Clifford, to commemorate her last parting with her mother. Lady Anne owned vast tracts of land including nearby Brougham Castle and was a benevolent landowner, still a popular figure in the area today. Lady Anne later set up an annual charity when bread and cash were distributed to the needy and a dole still takes place on April 2nd every year. Coins are distributed on the table next to the pillar, Lady Anne is remembered, hymns are sung and prayers said, and a collection is taken for charity so Lady Anne's original intention is still upheld. Expect a small crowd of around a dozen people.
Helpful Hints
In 2016 roadworks on the A66 after Storm Desmond meant that the dole took place at Brougham Castle instead of at the Pillar, but this was a one-off.
The service is usually conducted by the Vicar of Clifton &  Brougham, except when it falls on a Sunday.
Click here for Church contacts: http://www.carlislediocese.org.uk/benefice/lowther-and-askham-and-clifton-brougham.html
View larger map