| | |
| --- | --- |
| Where: | Burford, Oxfordshire starting at the Green by Warwick Hall |
| When: | Saturday nearest 17th May |
| Time: | From 10.30 am - 3pm with Posy Laying at 11.15 |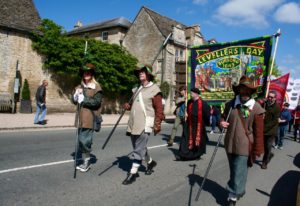 The Levellers, a radical political group somewhat ahead of its time, were suppressed by the Commonwealth in 1649 ; here at Burford hundreds of their members were imprisoned in the church and the three ringleaders were executed. They believed in the abolition of monarchy, religious tolerance , equality and extended suffrage. Every May on the weekend nearest the anniversary of this event, the Levellers are remembered at Burford and modern political themes are discussed; the event has been running annually for forty years. There are debates, music & dancing, speeches and a grand parade. Expect banners, flags,placards and seventeenth century costume; posies are laid on the churchyard in memory of the fallen.
Helpful Hints
Look out for the plaque on the church wall (outside) which commemorates the 1649 events.
Sandwiches, cake & drinks are available at the marquee.
In 2018 it will be on Saturday May 19th.
Click here for the event website : http://levellersday.wordpress.com
View larger map