| | |
| --- | --- |
| Where: | Calderdale, Yorkshire at Midgley Old Pinfold on Chapel Lane, Cragg Vale from the Park on Cragg Road, Gunthwaite Spa near Upper Denby (north of Penistone) |
| When: | 1st Sunday in May |
| Time: | Midgley 11am, Cragg Vale 2pm, Gunthwaite Spa 1-pm ish onwards with band at 2.30 |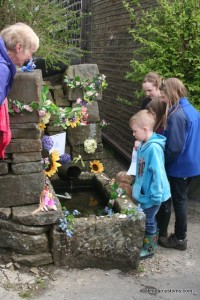 Spaw Sunday is a celebration of the local water supply in a custom closely related to Well Dressing (see separate article), recently revived after a break. Three areas are currently the focus of the festivities : Midgley,Cragg Vale and Penistone. At Midgley the numerous local wells and troughs are decorated with flowers and a walk takes place around them with breaks for recitations ,songs and music, followed by a bacon and dock pudding breakfast at the Community Room. At Cragg Vale there is a procession to the Spring for a Blessing, accompanied by clergy and sword dancers. It's traditional to drink the water mixed with liquorice – take your own bottle and shake it up – and a delicious picnic is consumed afterwards in the park followed by more dancing. At Gunthwaite Spa near Penistone, picnickers gather to relax and listen to the brass band.
Helpful Hints
The Midgley walk is around a mile-and-a-half and covers uneven terrain. The walk is free with a small charge if you partake of the breakfast which includes dock pudding(this  is a local delicacy and there's an annual competition – see World Dock Pudding Championship article). At Cragg Vale, the walk is short but steep, with the picnic at around 3.30 and it's organised by St John The Baptist in the Wilderness, Cragg Vale. The entrance to the Park is at the Mytholmroyd end of the village near the 30mph sign – look out for the carved deer sculptures. At Gunthwaite Spa there is no formal event as such, just a gathering of visitors on the day to hopefully enjoy the spring weather and the music.
As is often the case with spa water, it is sulphurous and smelly but the liquorice helps mask the flavour! In 2013 and 2014 it wasn't possible to drink the water owing to a pollution problem – future drinkability depends on the water being declared fit for human consumption.
In 2018 it will be on Sunday May 6th.
Click here for the Midgley village website: http://www.midgley.btck.co.uk/
Click here for the Cragg Vale Church website : http://www.erringdenbenefice.org.uk/
For a first hand account, visit http://traditionalcustomsandceremonies.wordpress.com/2013/05/31/customs-revived-calder-valley-spaw-sunday/
View larger map