| | |
| --- | --- |
| Where: | Cambridge, at St John's College Chapel Tower , St Johns Street |
| When: | Ascension Day |
| Time: | 12 noon |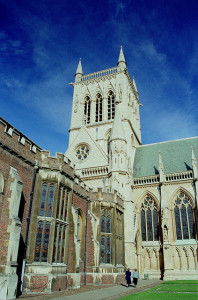 In a ceremony now carried out for well over a hundred years, the choir of  St John's College, Cambridge climb up the chapel tower in order to sing Praetorius' Ascension Day Carol. Surprisingly, the whole thing started as a bet that the choir would be inaudible from the ground – once they'd proved their point it became an established part of the college calendar. The singing follows Festal Eucharist in the Chapel.
Helpful Hints
Ascension Day always falls on a Thursday and is the 40th day after Easter so changes date according to when Easter falls.
In 2018 it will be on Thursday 10th May.
Clcik here for St John's College Choir website: http://www.sjcchoir.co.uk/about
Photo by TheRevSteve.
View larger map