| | |
| --- | --- |
| Where: | Carshalton, Surrey starting at Wallington Green; Burning at The Hope garden |
| When: | A Saturday in early September |
| Time: | From noon (isn) with burning in the evening |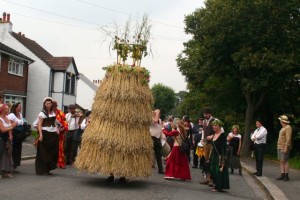 The Straw Jack is a harvest celebration held in September at Carshalton in Surrey. Jack is a male figure made from the last straw in the harvest and he is ceremonially burned after a full days revelry involving drummers and musicians, touring around the local pubs. If you've seen the Straw Bear at Whittlesea he's not dissimilar (see entry for Whittlesea Straw Bear Festival). Characters such as the Sweepers, the Corn Dollies and the Reaper Man will be there and if you're lucky you might get a piece of Jack to take home as a souvenir. Tree hugging takes place on the stretch of walk before arrival at the Hope on West Street!In the evening Jack is dismantled, bundles of straw are handed around the crowd, and everyone takes turns to burn their bundle in a brazier in the beer garden at the Hope.There's even a special tune!
Helpful Hints
Plenty of food and drink are available at the pubs en route – we had a very tasty bowlful of vegetable curry at the Hope. In 2014 Jack was burned just before 8pm but times for this aren't set in stone. Check the website link below to confirm up-to-date venues and timings before you set off!
In 2017 it was on Saturday September 2nd – 2018 date is yet to be announced.
Click here for the event website with full details of approximate times and locations : http://www.strawjack.co.uk/
and here for the Facebook page which currently appears to be broken – it had times & venues for the full day so I'm keeping the link for a while in case it gets fixed: https://www.facebook.com/pages/Carshalton-Straw-Jack/104502256264337?fref=ts
View larger map