| | |
| --- | --- |
| Where: | Ceres, Fife village centre Procession & games at Bow Butts |
| When: | Last Saturday in June |
| Time: | Procession from 12 noon, official games opening 1.15 |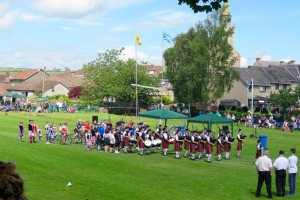 The Highland Games at Ceres are always held on the last Saturday in June and it's the oldest free games in Scotland. In 1314 Robert the Bruce granted the charter for the first games in recognition of the part the Ceres men played in the Battle of Bannockburn, so it has a long pedigree; the bravery of the men is commemorated by the playing of a lament at the opening ceremony. Expect a procession with bands to start the day off followed by  field and track events including traditional heavy throwing events and a tug of war, wrestling, piping and dancing competitions. There are many events to fit in so several take place simultaneously – while dancers perform on their stage and wrestlers take a tumble, you'll see cyclists and runners racing around the track and the heavyweight competitors throwing with all their might. A highlight is the throwing of the immense Ceres Stane, which spends the rest of the year in the village pub.There are plenty of food and trade stalls and a fun fair.
Helpful Hints
In 2018 the games will be held on Saturday June 30th and admission is free.
There are road closures on the day – if travelling by car follow the very clear signs to the car parking field (£5 per car in 2015).The games are held at Bow Butts, a natural amphitheatre with grassy banks around the edge which makes it easy to get a good view even sitting down (lots of people also take picnic chairs). Programmes are on sale with full details of the schedule.
Click here for the event website : http://www.ceresgames.co.uk/
View larger map