| | |
| --- | --- |
| Where: | London, at the Banqueting House, Whitehall |
| When: | 30th January SKCM Service & Mass (unless 30th is a Sunday, when it moves to the Saturday 29th instead) & Sunday near 30th ECWS Sunday Parade |
| Time: | 11.40 SKCM Service, 11.30 English Civil War Society Sunday Parade with Service at 12.30 |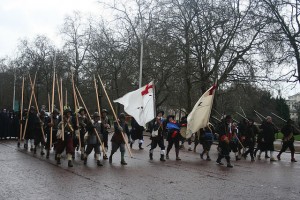 Charles I  was beheaded on January 30th 1649, the only king to be publicly executed in Britain. Each year the anniversary is marked by special prayers and wreath laying at his statue outside the Banqueting Hall in London which was the site of his decapitation, followed by a Mass inside the Banqueting House.He wore several shirts as the weather was cold and he didn't want to shiver because  the assembled crowd might think he was trembling with fear. As soon as he was executed, he was portrayed as a martyr for his faith and for many years muffled peals of bells rang throughout the country on this day. The Society of King Charles the Martyr organise this event. The English Civil War Society also organise an annual parade in Whitehall on a Sunday near to the 30th (this is the event on the photograph above).
Helpful Hints
In 2018 the SCKM event with Mass takes place on Tuesday 30th January at the Banqueting House.
In 2018 the English Civil War Society Sunday Parade will be on Sunday January 28th from 11 am starting at the Mall with the usual outdoor service at Whitehall around 12.30.
Everyone is welcome – you don't need to be a society member to take part. When 30th falls on a Sunday, the SKCM wreath laying and service moves to the preceding Saturday (29th) instead but this won't happen for a number of years.
Click here for the SKCM website: http://www.skcm.org/SKCM/Events/events.html
Click here for the English Civil War Society : http://ecws.org.uk/public/
Photo by Ian Mansfield.
View larger map