| | |
| --- | --- |
| Where: | Formerly Chester, Cheshire on Eastgate (Procession start) and Bridge Street |
| When: | Formerly Shrove Tuesday |
| Time: | Formerly 11am |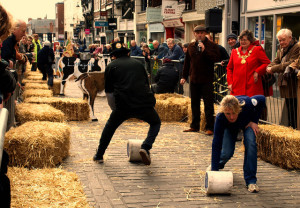 There are now a few cheese-rolling events in the UK and the latest addition to their number was the short-lived one held at Chester on Shrove Tuesday. It was associated with the Food and Drink Festival which takes place over Easter and it started with a procession of local worthies bearing a whole Cheshire Cheese from Eastgate to the Cross. The rolling competition was an obstacle course and teams of four -mainly from other cheesy areas like Stilton- competed with the local Cheshire Cheese team in a relay to see who could get their truckle around the barriers (straw bales and themed artworks)in the fastest time. There were several heats of pairs of rival teams before the final and the winner received a trophy and of course the glory of being champion cheeserollers.  Pancake races followed later in the day.
Helpful Hints
If you hear that this event gets revived please let me know!
Spectators should be in no danger from flying cheese, as this is not a steep course like Coopers Hill in Gloucestershire. Expect a large crowd and stalls selling (yes, you've guessed!) cheese and more.
Click here for the festival website : http://www.chesterfoodanddrink.co.uk/
Photo by Lucia Mejuto.
View larger map