| | |
| --- | --- |
| Where: | Countrywide |
| When: | 25th December (but the build-up starts much sooner!) |
| Time: | All day |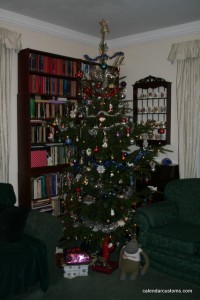 Christmas is currently the premier festival in the UK.  A Christian celebration of the birth of Jesus Christ, it contains  elements adapted from paganism and is popular both for religious and secular reasons as it brightens the shortest, darkest days of the year. Preparations start much earlier  with Christmas Shopping, Continental markets, the opening of Advent Calendars to mark the days up to the festival and the switch-on in most places of outdoor Christmas Lights, often involving a celebrity or well-known local worthy.A relatively recent phenomenon in the UK is the Christmas House – a private house festooned with illuminated decoration and lights in the period around Christmas, often raising money for charity (most areas seem to have one or two). Greetings cards are posted by the thousand along with letters from children to Santa, crackers are pulled, best clothes worn and parties held. Every year there are widespread household customs such as decorating with evergreens ( holly, mistletoe, ivy, wreaths and the Christmas tree as well as the colourful poinsettia) as symbols of eternal life and with lights, ornaments and candles to represent the sun and the Light of the World. The Christmas tree was introduced into British culture during the Nineteenth Century but other decorations were common before this date such as the Kissing Bunch of mistletoe. Children (and some adults!) leave out  Stockings on Christmas Eve for Father Christmas (aka Santa Claus) to fill with presents, and friends and family exchange gifts. Children still believe that Santa travels by reindeer sleigh to deliver their presents, entering the house by way of the chimney, and often a glass of whisky and  a mince pie are left for Santa and a carrot for his reindeer.  Special foods are eaten (see Christmas Fare) and the season is traditionally one of over-indulgence. Church services are at their most popular, and many people take part in Midight Mass on Christmas Eve to welcome in the Day. Expect plenty of seasonal music including traditional carols, some sung by groups of travelling carol singers; mummers plays are also  performed around this date, and Pantomimes. At 3pm the Queen gives her televised Christmas Speech and many popular TV shows produce a Christmas Special; charades and parlour games are played (perhaps for the only time in the year!). Christmas is primarily a time for families and friends to get together and is likely to keep its popularity for many years to come.
Photos by: Kandice (Santa & Reindeer), Allerleirall (Christmas Presents), Meg (Christmas House), Andy Leonard (Carol Singers).