| | |
| --- | --- |
| Where: | Cilgerran, Wales at River Teifi |
| When: | Saturday 19th August or 1st Saturday after 19th |
| Time: | 2pm |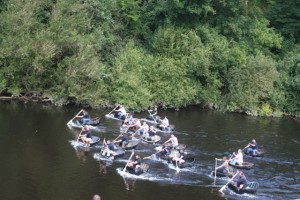 Cilgerran Festive Week is an annual celebration bringing together the whole village in a number of activities from childrens sports to fancy dress, carnival and horticultural show ; the main event is the traditional coracle racing which takes place on the Saturday nearest August 19th on the River Teifi not far from the Castle ruins. The coracle is a traditional lightweight wooden boat often likened to a giant walnut shell, flat based for ease of use on shallow, fast-flowing rivers and small enough to be carried by a single person. Though used in other areas, the coracle was most widely used in Wales for fishing and the River Teifi was its stronghold; the races and local enthusiasts keep the tradition alive. There was a very healthy number of entrants in 2014 so it looks set fair to continue into the future – and there are opportunities for beginners to have a go with expert help.Money raised by the competition and the other events arranged by the organisers over the year goes towards local good causes.
Helpful Hints
Don't follow the signs down the steep narrow road to the riverside carpark (like we did!) as it's closed off for the event – follow signs to free field parking instead and either walk down or take the shuttle bus. Toilets and refreshments are on-site.
In 2018 the races will be on Saturday 25th August (to be confirmed).
Click here to find out more : http://www.facebook.com/pages/Cilgerran-Festive-Week/129701493719825?v=info
View larger map