| | |
| --- | --- |
| Where: | London at the Guildhall Yard on Gresham Street and the church of St-Mary-le-Bow on Cheapside |
| When: | Last Sunday in September |
| Time: | 1pm at the Guildhall and 3pm at the church |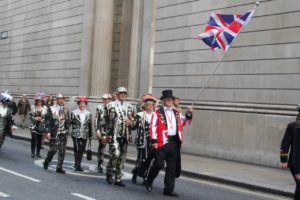 On the last Sunday in September the Pearly Kings and Queens of London's Costermongers celebrate the harvest in their own unique style at the spiritual home of the Cockney, the church of St Mary-le-Bow on Cheapside. During the afternoon there are performances at the Guildhall Yard including morris dancers, musicians and drummers, the highlights of which are the maypole dancing involving all the Pearlies, visiting dignitaries and Chelsea Pensioners, and the perambulation of Pearlies singing the traditional Cockney songs. A parade of dignitaries with edible goodies is then transported by barrow from the Guildhall to the church for a special service. Well known hymns are sung appropriate to the season and the Pearlies will speak about their history and involvement with charitable works.The famous Bow Bells are rung for the event, which is a rare chance to hear them (they're satisfyingly loud!). Expect a big turnout and lots of fancy costumes – it's one of the main events at which the Pearlies really go to town.
Helpful Hints
It's regularly reported in books and websites that this event takes place in October but it's currently in late September.
In 2018it will be on Sunday September 30th.
If you want a seat in the church service, you'll need to arrive quickly to get one as space is limited.
Click here to find out more  : http://www.pearlysociety.co.uk
View larger map