| | |
| --- | --- |
| Where: | Meriden, Warks at the War Memorial on the Green |
| When: | Sunday mid-month in May |
| Time: | 11am |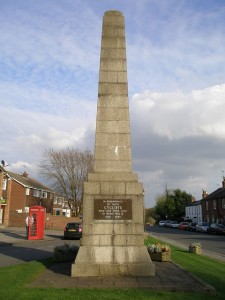 A service is held annually at Meriden in Warwickshire in recognition of  contribution that cyclists have made in service to their country in times of conflict. Meriden was chosen as the location because it is central in England and therefore not out of reach of most participants, and there is a large obelisk on the green which is the Cyclists War Memorial.  There are cycle races and other events during the afternoon.
Helpful Hints
In 2017 it will be on Sunday 21st May.
It's part of CTCs Heart of England Rally. Click here for their website and calendar: http://www.heartofenglandcyclingclub.org.uk/index.php/event-listings
and here for the Facebook listing: http://www.birminghamcyclist.com/events/event/listByLocation?location=Meriden+Green
Photo by Anne I Like.
View larger map