| | |
| --- | --- |
| Where: | Edinburgh - Acropolis National Monument & Calton Hill |
| When: | 30th April |
| Time: | 8pm at the Acropolis until 1.30 am |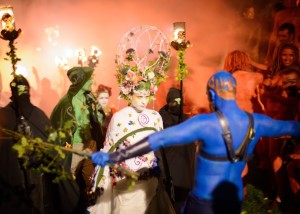 The Beltane Fire held every 30th April on Calton Hill is a modern revival of the ancient festival of Beltane, which was one of the quarter-days marking the divisions of the Celtic year. A torchlit procession starting at the Acropolis National Monument is followed by fertility plays starring the Green Man of legend and the May Queen and her handmaidens. Performances take place at multiple focus points over the entire Calton Hill site.Expect rituals, dancing and acrobatics before the procession reaches the bonfire site; blessings are performed and the fire is lit. Crowds of thousands attend.
Helpful Hints
In recent years it has become necessary to charge for tickets for the Beltane – every penny of the ticket cost goes towards the cost of staging the event, such as security, first aid, road closures and the clean up of Calton Hill post event. Tickets are £8 if purchased in advance, rising to £10 on the day. Tickets are selling fast so to guarantee entry it's best to purchase in advance.
2017 is the thirtieth anniversary of the revival of the festival and the Arch of Fire will be twice its usual size! Also, on 29th April there will be a free open day for interested families and visitors to find out more about the festival (see website link for details).
Follow this link for tickets:http://tickets-scotland.com/belt7
Crowds of over 10,000 attend this event so allow plenty of time to get there.
Click here for the event website : http://www.beltane.org/
Feature photo by Jasper Schwartz.
View larger map