| | |
| --- | --- |
| Where: | Ely, Cambridgeshire outside Cathedral, city centre and Jubilee Gardens |
| When: | Saturday before May Day Bank Holiday |
| Time: | 10.30am - 4pm |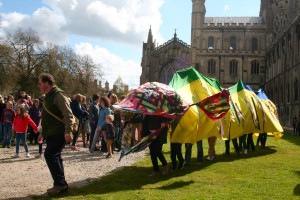 Ely takes its name from the eels living in the waterways around the city and each year this heritage is celebrated on Eel Day. The eel parade, led naturally by a giant eel, winds its way around town from the Cathedral to Jubilee Gardens where there are stalls, music, games, morris dancing and various other entertainments including competitions such as eel throwing (animal lovers can rest easy in the knowledge that no live eels are used, just toy ones). As the locals are aware that eels can be an acquired taste, other food options are readily available. An eel catcher may well be there with his equipment, and tanks of live eels.
Helpful Hints
All are welcome to join in the parade – it's a family friendly event. Eel Day itself is the Saturday before May Day Bank Holiday, which is the one at the start of the month, and the festival now lasts over the whole weekend (check the website link below for the full schedule). Look out for the metal eel sculpture in Jubilee Gardens.
In 2018 it will run from Friday April 4th to Monday May 7th with Eel Day on Saturday 5th May.
Click here for more info : http://visitely.eastcambs.gov.uk/
and here for up-to-date info on this years event : http://elyeelfestival.co.uk/eelday/eel-day/
View larger map