| | |
| --- | --- |
| Where: | Flamborough, Yorkshire usually starting at the Rose & Crown in the High Street |
| When: | Boxing Day |
| Time: | From 12.30 |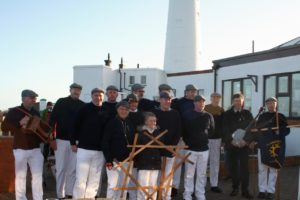 Boxing Day is when the Flamborough Sword Dancers perform around their home village. With origins in the local fishing community, the team are very well established and wear appropriate dark blue fishermens jerseys with white trousers- even some of the dance moves are said to be derived from threading actions used when making and reparing their fishing nets. The local children are taught the moves at school in order to pass the tradition on to the next generation and it obviously pays off as the junior team is a prizewinning one in the field, and many of the mature dancers had their first introduction to the activity when they were schoolchildren. They perform with wooden swords outside each of the local pubs including the Rose & Crown and ending at the Royal Dog & Duck.
Helpful Hints
The dancers are aiming to have their own website up and running during 2017 which will include the full itinerary for the day – will add the link when it's available. In 2016 an extra stop was added at the start at 12.30 at the Headland Cafe, with a beautiful Lighthouse backdrop, which meant that some of the later stops on the tour were a little later than usual.
The Dancers are also supporting the relatively new charity fundraiser, the Flamborough Boxing Day Dip so you can catch them before their regular tour, at South Landing from 10.45 with the Dip at 11.
Click here for more: http://www.rapper.org.uk/relations/longsword.php
View larger map