| | |
| --- | --- |
| Where: | Galashiels, Borders |
| When: | Saturday nearest June 30th |
| Time: | From 8am until 8pm. |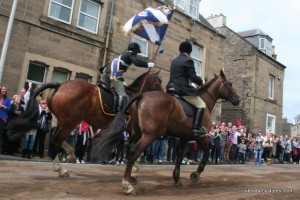 Galashiels Braw Lads Gathering is a traditional Borders festival with a plethora of commemorative aspects to it. Beginning at 8am, the braw Lad recieves the Flag and leads a cavalcade to the Raid Stone, marking the victory of local lads over the English back in 1337 – the Sassenachs were ambushed while they ate local plums and to this day Soor Plums are given by the girls to their lads in the ceremony.After marking the local boundaries the group reassembles  for the Mixing of the Roses at the old Town Cross at 10.30, commemorating the marrage of Margaret Tudor the English princess, to King James IV – the couple were betrothed at Galashiels. Further rides then take place around town then the cavalcade  heads to the War Memorial where the Callant dips his flag in memory of the fallen at noon.
Helpful Hints
In 2018 it takes place on Saturday 30th June. Printed programmes are available at newsagents in town with full details of times, places and faces.
Click here for the event website : http://www.galashiels.bordernet.co.uk/gathering.html and http://www.returntotheridings.co.uk/galashiels.html
View larger map