| | |
| --- | --- |
| Where: | Glastonbury, Somerset starting at the Market Cross, later at the White Spring on Wellhouse Lane and the Abbey |
| When: | 30th April/ May 1st or nearby date |
| Time: | From 11am at Market Cross, from 1.30pm at White Spring, 5pm finale at the Abbey |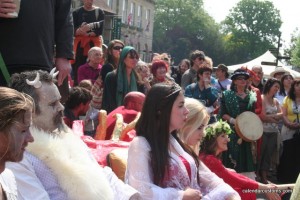 The Beltane Celebrations at Glastonbury are a modern interpretation of the ancient Celtic pagan fertility rite of spring, and where better to celebrate such an event? Starting with street performances, singing, dancing and music at the Market Cross, the procession moves along the High Street with Chinese dragons, green men and an array of costumed folk. The sacred waters are blessed at the White Spring followed by the raising of a maypole at Bushey Combe with dancing and more music. Further celebrations later in the day include a Beltane Fire at the Goddess Hall or the finale at the Abbey.
Helpful Hints
Plenty of opportunities in the town centre for eating (the George & Pilgrims on the High Street is an ancient and picturesque hostelry) and parking. Floral garlands are available at a number of shops – lots of people participating in the festival wear these. Very friendly atmosphere – all ages are welcome.
It varies a little in date from year to year but is always around 30th April/1st May. In 2018 it will be on Sunday 6th and Monday 7th May (see link for full breakdown of timings etc) and as different groups organise different parts of the celebrations there will be other events around this time ( all to be confirmed).
Click here for the event facebook page : http://www.facebook.com/pages/Glastonbury-Community-Beltane-Celebration/366984267458
and https://www.facebook.com/groups/1164343210264976/?fref=ts
View larger map