| | |
| --- | --- |
| Where: | Grasmere, Cumbria |
| When: | Saturday in mid-July |
| Time: | 3.30 from the School |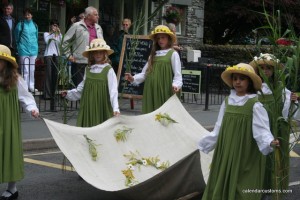 Grasmere celebrates its rushbearing festival currently in mid-July (it was formerly held on the Saturday nearest August 5th). Rushbearing is a ceremony whereby the floor rushes in church were renewed – the floor has been paved at Grasmere for many years but the ceremony continues! Six costumed Rush Maidens carry a white sheet holding the strewing rushes while the rest of the procession carry rush-based flower-covered "Bearings" in a variety of shapes including harps and crosses. The procession starts at the school at 3.30 and after a short church service at 4.15 the children are given the famous Grasmere Gingerbread to eat.
Helpful Hints
The Village Hall has a painting of the Rushbearing by Fank Bramley RA. Gingerbread can be bought from the Gingerbread Shop at the church gate (it's very good!).
Park in the huge signposted carpark (just off the main road past the village) as parking is limited in the centre.
In 2017 it took place on Saturday July 8th – 2018 date is yet to be announced. The date can be a little variable from one year to another so double check, but is usually the second Saturday in the month.
Click here for the village website: http://www.visit-grasmere.co.uk
Click here for the church website: http://www.grasmereandrydal.org.uk
Click here for more info : http://www.visitcumbria.com/rushbearing-festivals/
View larger map