| | |
| --- | --- |
| Where: | Great Finborough, Suffolk at the Chestnut Horse on The Green |
| When: | Easter Monday |
| Time: | 12 noon until 5pm with Race at 4pm |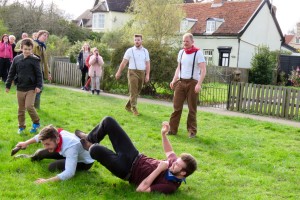 While Race of the Boggmen may sound more like a lost episode of Dr Who, in fact it is an annual contest between villagers of Haughley and Great Finborough in Suffolk. It starts and ends at the Chestnut Horse pub in the village; the competitors race over the fields from Boyton Hall about a mile away and the winner is the first runner to hand in a scroll at the pub, bringing victory to their home village. The origins of the race lie back in the late nineteenth century when the farmer at Boyton Hall sacked his workmen and took on a team from Haughley instead; when both sets of men turned up for the job they needed a way of deciding who would be employed and the race was born…The contract of employment was tossed into the air and the first man to get it to the pub won, just like today. As well as the race there are other activities on offer at the Chestnut Horse including childrens craft competitions, egg-and-spoon races, egg-throwing with raw eggs and stalls. Nowadays the contestants are taken from the pub to the starting point at the Hall in the back of a pickup. Expect lots of wrestling and practical tricks between the competitors!
Helpful Hints
In 2018 it will be on Monday April 2nd.
It goes ahead whatever the weather! The race itself is at 4pm but there are other entertainments all day from noon.
Click here for the Chestnut Horse contact details: https://plus.google.com/107248891679598114323/about?gl=uk&hl=en
View larger map