| | |
| --- | --- |
| Where: | Great Wishford, Wiltshire -village centre and Oak Apple Field off Station Road & Salisbury Cathedral dance outside North Porch & service inside |
| When: | 29th May |
| Time: | Dawn at Woods; 10am dance at Salisbury Cathedral; Procession 2pm followed by fair in afternoon |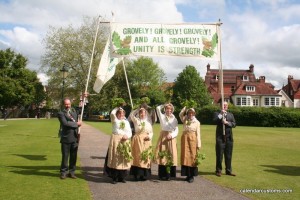 The origins of the Grovely Ceremonies at Great Wishford lie in the rights of the villagers to collect wood for fuel from the woods nearby – charters still exist from Elizabethan times which stipulate conditions which must be met in order to keep those rights alive. A group of dancers must go to Salisbury Cathedral and declaim "Grovely ! Grovely! And all Grovely!" and while this originally took place during Whit week , the festivities now occur on May 29th every year which is Oak Apple Day. The day begins with a raucous tin can band to wake everyone up (participated in keenly by the children armed with anything from trumpets to bin lids), followed by a procession into the forest with banners to gather the wood; houses in the village are decorated with bunting and boughs. The group of dancers, in period costume, still perform outside Salisbury Cathedral then lay branches on the altar there in the morning during a very brief service before returning home for a further procession and traditional village fair. There's maypole dancing, stalls, food and entertainment.
Helpful Hints
It's only 6 miles from Great Wishford to Salisbury (the Park & Ride is very convenient). Look out for the Charter Stone on Station Road at Great Wishford  which commemorates the custom – it's just outside the gateway into Oak Apple Field.
Click here for the village website: http://www.greatwishford.co.uk/
View larger map