| | |
| --- | --- |
| Where: | Greenwich, London at various locations including the Cutty Sark (start), Trafalgar and Market area - see website link for complete schedule |
| When: | Easter Monday |
| Time: | Noon onwards |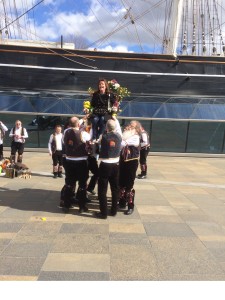 Heaving or lifting used to be a common Easter custom countrywide, which has largely disappeared over time. Its origins are obscure but it usually involved teams lifting a member of the opposite sex high in the air on a chair, perhaps with demands for cash or kisses! Theories of a link with fertility rites or parodies of the resurrection are uncertain, but it was certainly frowned upon by the church ; frequently men were lifted by women on Easter Tuesday after the women had their turn on the Monday. As far as I'm aware, the only modern day revival of the custom is the one at Greenwich on Easter Monday, carried out by Blackheath Morris as their first outing of the year. The flower bedecked chair is brought forward after dancing displays and women are invited to sit in it whereupon they are lifted three times up to shoulder height and spun around before the men claim their reward of kisses. The dancing and lifting starts around noon and carries on all afternoon outside pubs throughout Greenwich (with a few breaks for refreshment of course!)
Helpful Hints
Head to the Blackheath Morris website to obtain a full timetable ( the full schedule appears relatively close to the day). Don't panic if they arrive late – they'll be running to Morris time….
In 2018 it will be on Monday April 2nd.
Click here for the Blackheath Morris website : http://www.blackheathmorris.com/Blackheath_Morris_Men/Home.html
Thanks to Ross Parish for drawing my attention to this custom!
View larger map