| | |
| --- | --- |
| Where: | Hallaton, Leicestershire.Scramble : St Michaels Church gate. Game : Hare Pie Bank |
| When: | Easter Monday |
| Time: | Scramble 2 pm : Game : 3pm |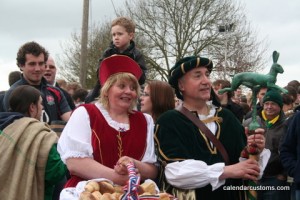 This is an ancient custom with two distinct parts. The first is a charity dole and the second is a mass "ballgame" played with small wooden casks called bottles. The fun starts with a procession from the Fox Inn through the village, led by the Warrener with his hare-topped staff and his attendants with baskets of bread and the eponymous Hare Pie (I believe it's minced beef these days). The Bottles,  be-ribboned,filled with ale and each weighing 5 kg, are carried by three strong players. Once at the church gate, the pie is blessed and distributed to the crowd; the Procession then returns to the Buttercross in the centre of the village where the loaves are given out and then goes back to the Fox. A break follows then it all starts up again with another Procession, this time to Hare Pie Bank where the game takes place. Play is between the villagers of Hallaton and their neighbours from Medbourne and the goals are a mile apart; the bottles are thrown in the air and a fierce contest begins.Injuries are fairly common as the scrum heaves across the fields, over any obstacles including fences and streams in its path. Play can continue after dark and the game is decided by the best of three bottles. There are few rules!
Helpful Hints
Arrive early as parking in the village is limited and you may have a short distance to walk . Plenty of food & drink is available at the pubs and there are food stalls near the Buttercross. Stand well back at the church gate if you want to avoid flying pie – if you have a dog with you this will probably be their favourite part of the day! The pavements for the Procession are dry and easy to negotiate but the Hare Pie Bank can be muddy and it's steep in places. Unless you're wanting to take part in the scrum, allow plenty of room to get out of the way as it acquires a great momentum and play is fierce. Expect large crowds particularly if the weather is good. The display about this custom, which was formerly in the vilage museum, is now inside the church and is well worth a look (lots of photos and history).
In 2018 it will be held on Monday 2nd April.
Click here for the Facebook page: https://www.facebook.com/BottleKickingHallaton/
Click here for the village website: http://www.leicestershirevillages.com/hallaton/
View larger map